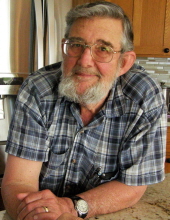 Obituary for Bill Neer
William "Bill" Stephens Neer

2-29-1940 until 7-30-2017

Born in Twin Falls, ID to Noel and Vaudis Neer of Kimberly, ID.

Bill Graduated from Kimberly High School Class of 1958; in high school he was a member of FFA, played first Trumpet, and went with the Debate Team to the State Championship. After graduation he enlisted in the United States Air Force with four years of service as a Corpsman.

Graduated from San Jose State University with a Bachelors of Science Psychology and moved to Oregon in 1970 and was employed by the State of Oregon Parole and Probation in Eugene OR, and volunteering for the Fire Department. He retired after 25 years in 1995 to enjoy farming Beef Cattle in the Mohawk Valley, and his hobbies of fishing, hunting, raising hunting dogs, and especially enjoying his family.

In 2004 he moved to Camano Island, WA with his wife, Gayle, and in 2014 they relocated to Buckley, WA.

Bill is survived by his wife Gayle; six children Cathy (Mac), Karen, Rob (Leslie), Scott (Rana), Stephanie, and Matt; brother-in-law Ken (Cindy); 19 grandchildren; 11 great grandchildren; 2 cousins; 2 nieces; and their dog Lola.

He was a friend of Bill W for 29 years. Bill was loved by many and will be missed by all.

Remembrances can be made to Ducks Unlimited, Buckley Fire Department, American Red Cross, Shiners Hospital, or a Charity of your choice.

A Celebration of Life will be held on Sunday, August 13, 2017 at 1:30 pm at Rob's Farm, 47926 284th Ave SE Enumclaw WA 98022.