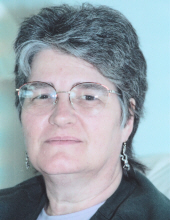 Obituary for Irene Marie Clasby
Irene Marie Clasby, age 69, died August 19, 2017 in Enumclaw, WA. She fought MS bravely for over 30 years. Irene was born December 31, 1947 in Auburn, WA. After moving to several states in her lifetime, she and her family came back home to Washington. She loved her beautiful garden and would enjoy her time outdoors with the Cascades as her backdrop. She loved spending her time doing macramé and sewing. She is greatly loved and greatly missed by her family.

Irene is survived by her husband Jerry of Enumclaw; daughter Jennifer Carter and her husband Kyle of Kennewick, WA; son Aaron Clasby and his wife Jennifer of Oklahoma City, OK; two grandchildren, Layla and Korben; and brother Evan Schiltz and his wife Tina of Hacienda Heights, CA. She was preceded in death by her parents Alois and Josefina Schiltz.

Remembrances may be made to the Multiple Sclerosis Society, 192 Nickerson St. #100, Seattle, WA 98109.