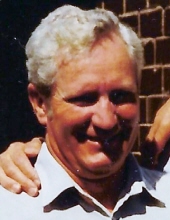 Obituary for Joe Ben Toms
Joe Ben Toms of Enumclaw, WA passed away at home on August 11, 2017. Joe was born on June 25, 1943 to Edward Franklin Toms and Loretta Mae (Kirkpatrick) Toms in Hockerville, Ottawa County, Oklahoma. He spent his early years in Oklahoma moving to Washington with his dad and stepmother Ethel J. Toms.

Joe was in the Army National Guard of Washington and then in the U.S. Army Reserve serving over six years as a Sr. Security Guard. He was a dog handler stationed on Vashon Island with his dog and partner, a white German Shepherd named White Cloud. He earned the Marksman Badge w/Carbine Appendage; Marksman Badge w/Missile Appendage; Sharpshooter Badge w/Pistol Appendage; Unit Citation Ribbon for AGI FY 65; and Bronze Star for AGI FY 66.

Joe moved to a career as a meat cutter for several grocery chains throughout the Puget Sound area. In the early 1970s he owned a rabbit processing business, selling fresh processed rabbits in the Pierce County area. After his first heart attack and meat cutting was not easy, he worked for the City of Renton Parks mowing the golf course, and the City of Tukwila golf course. He worked many years for the Mercer Island Parks and Recreation maintaining the parks.

Joe and his first wife Alice had a son, James D. Toms, later divorcing. He married his second wife Yvonne and adopted Angelina before they later divorced. Joe had many interests including fishing and hunting, going camping and being outdoors working on his acreage.

Joe is survived by his son, James D. Toms of Issaquah, WA; daughter Angelina Toms of Enumclaw, WA; brothers Ernie (Sandy) Hodge of VA and Rick Hodge of WA; and many nieces and nephews. Joe was preceded in death by his parents Edward and Loretta; stepmother Ethel; sister Mary Madeya; brother Edward Toms; and stepbrother Ken Langei.
Previous Events
Graveside
Evergreen Memorial Park
23717 SE 416th St
Enumclaw, WA 98022