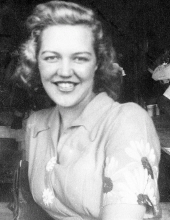 Obituary for Katheryn O'Brien Franco
Katheryn O'Brien Franco was born to Leo and Olive on June 11th, 1920 in Buckley, WA., and passed away August 20, 2017. Katheryn was the oldest of seven siblings; Thomas, James, Lucille, Margaret, Mary, and Patricia. Kay grew up in Buckley and graduated from White River High School before moving to Seattle. Kay loved living in the Central District of Seattle and all the city had to offer. During World War II, Kay contributed to the war effort as a riveter at Boeing. During her full life, she enjoyed cooking, canning, traveling, attending Garfield High school sporting events, and her favorite pastime, shopping.

Katheryn is survived by her daughters, Kathleen Bledsoe (Rupert), and LeeAnn Aguilar (John); sons, Joe Franco (Cherryl), and Dan Franco (Lorena). She is also survived by 11 grandchildren and 11 great grandchildren; sister Mary Ann Johnson; numerous cousins, nieces and nephews.
Katheryn was preceded in death by her son Jack Leon Franco in 2014.

Memorial donations may be made to Madrona Presbyterian Church, 832 32nd Avenue
Seattle, Washington 98122. A celebration of Kay's life will be held October 7th, 2017 11:00am at Madrona Presbyterian Church, Seattle, WA.
Cemetery Details
Location
Buckley City Cemetery
600 River Rd.
Buckley, WA 98321