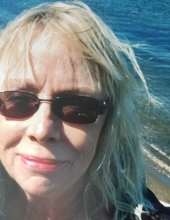 Obituary for Lezlie Louise Johanson
Lezlie Johanson died August 21, 2017 in Enumclaw at the age of 67. She was born September 10, 1949 in Burien. Lezlie loved spending time with family and her grandkids. She liked making a home, music from all generations, working in the yard. Lezlie enjoyed a glass of wine, she loved nature, and the spiritual essence of the earth.

Lezlie is survived by her sons Chadd Pike and Zach Pike (Maggie Majack) of Buckley; 2 grandsons and 1 granddaughter; father Frank Goodell of Enumclaw; and ex-husband and life-long friend Steve Pike of Buckley.

Remembrances may be made in Lezlie's name to the Disabled American Veterans, P.O. Box 6156, Kent, WA 98064.