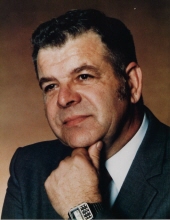 Obituary for Philip P. Janosik
Philip P. Janosik, 1931-2017

Philip Paul Janosik, 86, died August 25, 2017, at his home in Enumclaw, Washington. He was a resident of Enumclaw for over 52 years and was a loving husband, father and friend.

He was born in Hopewell, Virginia, in 1931. He loved being outdoors with his father exploring the Dismal Swamp in southern Virginia in the late 1930s and early 1940s. He achieved the highest rank in scouting, Eagle Scout, in 1945. After graduating Hopewell High School in 1949, he went on to graduate from the Virginia Polytechnic Institute in 1954 with a Bachelor of Science degree in Aeronautical Engineering. Soon after graduation, he loaded up the car with two young boys and his pregnant wife, Barbara, and drove out west to look for employment. He was quickly hired by the Boeing Company and remained with Boeing for nearly 40 years. Some of the projects on which he worked, and of which he was most proud include Lunar Orbiter, Boeing 707 Transport Jet, Lunar Rover, and the Navy Jet Foil program of Boeing Marine Systems. He attained Professional Engineer status in Mechanical Engineering in 1977 and retired as a very proud Boeing Manager in 1992.

In his retirement years, he developed a deep interest in family genealogy and amassed an incredible library of over 2000 documents associated with the history of the Janosik and Armstrong families. His passion to uncover family history took him to countless places throughout North America and all of Europe. His extraordinary work resulted in a family treasure that will be passed down for many generations to come.

He is survived by his wife of almost 66 years, Barbara A. Janosik; five sons, Stephen P. Janosik of Spokane, WA, David M. Janosik of Enumclaw, WA, Timothy P. Janosik of Enumclaw, WA, Gregory J. Janosik of Woodbridge, VA, and Mark J. Janosik of Yakima, WA; six grandchildren and even more great grandchildren; and two sisters, Jackie J. Ford of Alexandria, LA, and Ruthanne King of Disputanta, VA.

A memorial service will be held at Sacred Heart Catholic Church at 10 AM Friday, September 1, 2017, with burial following at Enumclaw Evergreen Memorial Park.

Instead of flowers, donations may be made in the name of Philip P. Janosik to the Alzheimer's Association at www.alz.org.
Previous Events
Funeral Service
Sacred Heart Catholic Church
1614 Farrelly St.
Enumclaw, WA 98022
Graveside
Evergreen Memorial Park
23717 SE 416th St
Enumclaw, WA 98022