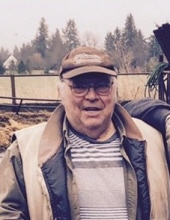 Obituary for Wayne A. Nachtsheim
Wayne "Chum" Nachtsheim was born on December 19, 1935 to John and Mary Nachtsheim in Selz, North Dakota. He was one of eight children. Early on in his childhood, the family moved to Enumclaw, Washington. Many of his memories and stories were of when there were only dirt roads and no stoplights in downtown Enumclaw. He had a paper route as a young child and used to take his earnings to the local soda shop for candies and soda. He also enjoyed reading comic books and tried his hardest to keep up with the shenanigans of his older brothers and friends.

Chum met his true love during a parade while he was on the rodeo posse. Her horse got away and he was able to catch her and the horse. It was a match made in heaven, and soon after he and Linda were married. Their first child, John (JR), was born and kept them on their toes helping on the dairy farm. Later on, JR ended up working in the masonry business next to his father and Uncle. Twelve years after JR, Chum and Linda's second son Martin was born. Two years later, their first daughter, Nichole (Nikki) joined the family. In 1982, Jolene (JoJo) was born and two years later, the last of the bunch, Darwyn (Dar) was born. With a houseful of 5 children, Chum continued to work hard as a mason while maintaining the dairy farm. There came a point in time where Chum and Linda decided to focus on their careers instead of the dairy farm; Chum as a mason and Linda for the White River School District.

On Sunday August 20th, Chum felt it was time to finally be with his true love Linda, after 9 years since she went to Heaven. There are so many memories that one can think of when it comes to Wayne. He and his father-in-law, Martin Johnson, helped with the Northwest Junior Livestock Show by helping youth raise livestock, he worked on numerous buildings across the state of Washington as a brick mason with his brother and other companies. He retired more than once because he had to stay busy; he supported each and every one of his kids in their dreams of showing dairy cattle and playing sports such as soccer, football and wrestling. He always had a smile on his face, a joke to tell and was such an inspiration to so many people. His love for being a crafter overflowed from masonry to handmade flower baskets and planters. There were so many trips to the Issaquah Farmer's market to sell the planters and his tomato plants which he planted and cared for with so much love. He left behind his five children: JR and wife Mona, Martin and wife Melissa, Nikki and significant other Cory, JoJo and Dar. He loved each of his grandchildren and they all had a special bond with their Grandpa/Papa: Kendra, Kanncie, Brandon, Kiera, Taylor, Lincoln, Aubrie and Liah.

The family is planning a celebration of life for the end of September. More details to follow via online invitation through Facebook. Donations are suggested to the Northwest Junior Livestock Show and details on how to donate will be posted once the page has been set up.